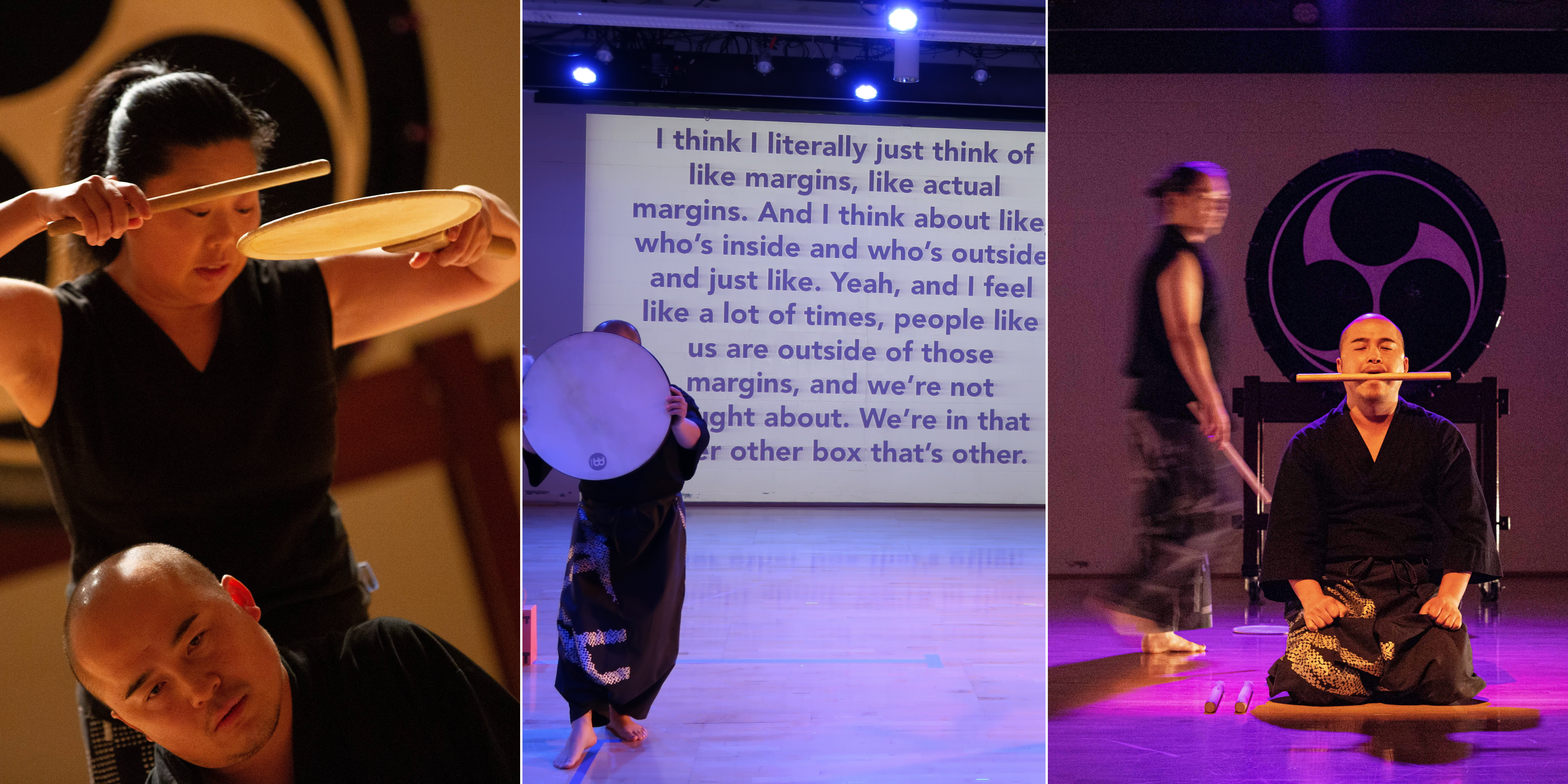 Constant State of Otherness is a multi-layered performance exploring the impacts of the universal experiences of othering and alienation. Through taiko, Japanese folk dance, song, and personal story, six performers guide the audience through a four-part journey inspired by experiences of isolation and displacement that come from not having an easy sense of home.
Rooted in ancestral wisdom and survival, Constant State of Otherness resists simplistic translations of language, cultural ways and the complicated emotions that otherness evokes. By allowing their stories to fractally unfold through the resonance of drum, voice and movement, Unit Souzou offers an invitation to locate our shared longing to belong.
Constant State of Otherness is co-created and performed by Unit Souzou Ensemble Members – Ian Berve, Michelle Fujii, Kristy Oshiro, Toru Watanabe, David Wells, and Vicky Zhang.
Project Conception and Director: Michelle Fujii
Choreographer: Toru Watanabe
Music Composer: David Wells
Company Manager: Sarah Ayako
Dramaturg: Maesie Speer
Lighting Designer: Jeff Forbes
Costume Designer: Alex Pletcher
Soundscape Editors: Joe Kye and David Wells
Installation Artist: Horatio Law
Video Consultation: Annie Tonsiengsom

Constant State of Otherness is a National Performance Network/Visual Artist Network (NPN/VAN) Creation & Development Fund Project co-commissioned by The Myrna Loy in partnership with Caldera Arts, Asian Arts Initiative, Dance Place, Risk Reward and NPN/VAN. The Creation & Development Fund is supported by the Doris Duke Charitable Foundation, the Andrew W. Mellon Foundation, and the National Endowment for the Arts. For more information: www.npnweb.org. Constant State of Otherness has received funding from Puffin Foundation, New England Foundation for the Arts, National Theater Project Award, and The MAP Fund, supported by the Doris Duke Charitable Foundation and The Andrew W. Mellon Foundation.
Special thanks to:
Peggy Nagae, Ronee Penoi, Meena Malik, Toni Tabora-Roberts, Subashini Ganesan of New Expressive Works, Krys Holmes, Karena Salmond, Jodie Cavalier, Katie Watkins, Henry & Mari Fujii, Kuma and all of our generous community interviewees, co-commissioners and funders.
Constant State of Otherness Journey
Constant State of Otherness has been a more than 4-year journey of creative and community engagement, ensemble-building, resilience, challenge and emergence. We could have never foreseen the extended exploration we would undertake or the fractal reflections of these themes over and over again through our communities and our lives during these years.
2018
Moved to explore the experiences of isolation and displacement that come from not having an easy sense of belonging, Michelle Fujii began developing Constant State of Otherness during a month-long creative residency at the Caldera Arts Center in Central Oregon in February 2018.
Commissioning and producing partners The Myrna Loy (Helena, MT), Caldera Arts (Sisters, OR), Dance Place (Washington, DC), Risk/Reward (Portland, OR) and Asian Arts Initiative (Philadelphia, PA), committed to support the project, and Unit Souzou received funding from the National Performance Network Creation & Development Fund to support development of the project with the goal of touring the completed performance in spring 2020.
2019
In May 2019, Michelle & Toru led a taiko storytelling workshop with Philadelphia-based Asian Arts Initiative's Youth Arts Workshop and led a workshop with the local Asian American community.
In September 2019, the Unit Souzou ensemble journeyed to Helena, MT, hosted by our commissioning partner, The Myrna Loy. A highlight of our time in Montana was sharing a community meal, working with students from Pal High School who shared vulnerable stories of otherness as they face their futures, and interviewing several inspiring members of the community, who shared stories of their life experiences deeply steeped in navigating otherness including Rob Bonnes who invited us to spend at an adaptive ice skating hosted by the Montana Independent Living Project. We tried out adaptive hockey, which got us thinking about new perspectives of how each of us moves through the world. Valerie Hellerman shared their experiences of working with refugee camps around the world, and Moe Wosepka told us about their dedication to helping former inmates with their complex transitions to new lives. We also worked with students from PAL high school with whom we used taiko to explore expressions of otherness.
Soon after, the ensemble traveled to the Caldera Arts Center, nestled among the gorgeous trees and lakes of the Deschutes National Forest. In a space so tied to nature, we found time to bring ourselves into our bodies so that we could feel and create from a vulnerable and authentic place. As we explored what otherness means to us, we found our own stories of family and community that shaped who we are and the burdens of what we represent in our multi-racial society. We also offered workshops at Deschutes Public Libraries in Redmond and Bend.
2020
In January 2020, we returned to the Caldera Arts Center for a residency that combined project development with time spent in community. We taught four intergenerational taiko storytelling workshops hosted by Deschutes Public Library, The Lodge in Sisters, Age Friendly Sisters Country, and Citizens for Community. These workshops allowed participants to share their identity stories through the rhythms of taiko and reflect on experiences of otherness and isolation. We ended our residency with an inspiring weekend workshop with Caldera Youth Program students from Portland and Central Oregon. These young people shared deeply and generously with us and each other, and we are honored that their voices are a part of this project.
Michelle traveled to Philadelphia in February to lead a taiko storytelling workshop for the Asian American community as part of Asian Arts Initiative's The Beat of Resistance exhibition.

After nearly three years of community engagement and development, Constant State of Otherness was scheduled to culminate in a tour across the country in May 2020. The pandemic forced us to put the tour on the backburner and reimagine the project as a series of video diaries and online performances in 2020 and 2021.

One week before COVID shutdowns in March, we shifted our live performance to a livestream platform hosted by New Expressive Works called Otherness: Togetherness. This performance was planned to feature our collaborators, installation artist, Horatio Law, and musician, Joe Kye. We remained steadfast and committed to represent our respective identity stories as Asian Americans as we sensed the foreboding anti-Asian sentiments that were beginning to surface from fear.

In May, one of our commissioning partners, Dance Place, hosted a virtual presentation. We talked about our artistic process, otherness journeys, debuted otherness video diaries and video works that were modified from excerpts of our live performance. Dance Place also provided an online platform for us to continue to gather stories of otherness from their community.

2021
Throughout our creative process, we heard many stories in response to the questions we asked community members: How have you othered others? How have you othered yourself? How have you been othered? Several words were repeated in our conversations: displacement, loneliness, belonging, home, distancing, isolation. The experiences of pandemic shut down and distancing and rising violence against Asian Americans brought these themes viscerally into the present, and we knew we needed to continue to develop the project as our experiences of otherness continued to evolve.
Through 2021 our ensemble worked both virtually and in person, looking toward 2022 with hope that we could finally share this project with a live audience. Some of our activities included:
Spring 2021: Michelle and Toru taught an online class through Caldera Arts's Youth Program which included diary writing, conversation, and storytelling.
May 2021: We received MAP Fund to support our debut of Constant State of Otherness.
June 2021: We received New England Foundation for the Arts National Theatre Project Award to support continued creative work and final production.
December 2021: We hosted Stories of Resilience: Otherness, Safety, Healing – new otherness video diaries created by Unit Souzou ensemble members as part of another creative project focused on safety in public, RHYTHM. This intersection illuminated new dimensions of otherness.
2022
Our ensemble gathered in Portland for residencies at New Expressive Works in February and March. During this time the final performance took shape. We honed older performance material developed since 2019, created new material, and worked with our designers, collaborators and producing partners to ready the project for performance and tour.