March 21, 2020 - March 22, 2020 at Sat 7:30 pm, Sun 2:00 pm & 7:30 pm
Location: New Expressive Works, 810 SE Belmont Street, Portland, OR 97214 Studio 1 & 2
Unit Souzou is excited to present Otherness: Togetherness featuring Horatio Law, visual installation artist; Joe Kye, violinist-looper, and Unit Souzou taiko ensemble – coming together to share stories grappling with ideas of identity, home, otherness. The program will showcase the commonalities amongst their experiences, melding together into a cohesive art experience to amplify the diverse perspectives of what it means to be Asian in America, both embracing "Asian American" as space for culture and community, but also pushing boundaries of stereotype, labels, and expectations.

DATES: Mar 21st 7:30 p | Mar 22nd 2:00 & 7:30 p
VENUE: New Expressive Works, 810 SE Belmont Street, Portland, OR 97214 | Studio 1 & 2
Early Bird Tickets $15 (purchase before Feb 29th)
General Admission $20; Students/Artists $15
This event is funded in part by the Regional Arts & Culture Council.
About the artists
Horatio Hung-Yan Law is a Portland based artist who works in installation and public art. Much of his work stems from his Asian American identity and his experience as an immigrant. His work is a confluence of public art, installations and social practice that is place-based and community-centered, exploring issues of identity, memory, history and the meaning of community.   As a public artist who is also interested in socially engaged work, working and collaborating with stakeholders and community members become essential aspects of his working method. His project often includes a strong community process—collecting ideas and cultural materials, and sometimes engaging residents in planning and production of public art. The resulting work responds physically and symbolically to the space and the vision of each community. He has created public art projects for Housing Authority of Portland (Home Forward) at New Columbia, Tri-Met's Portland-Milwaukee Light-Rail Line, Oregon State Hospital, Asian Counseling and Referral Service in Seattle, Seattle Public Utilities, and Northwest Housing Alternatives in Portland, Oregon.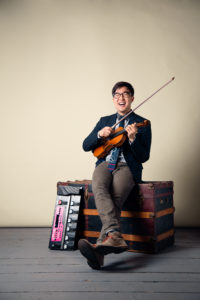 Born in Korea and raised in Seattle, singer/composer/violinist-looper Joe Kye "discharges world[s] of emotion" with his lush string loops and eclectic style (Guitar World). Drawing upon his immigrant upbringing, Kye weaves together diverse textures, melodies, and vocals to uplift and empower listeners. A powerful storyteller with an inclusive sense of humor, Joe's performances weave his immigrant narrative through his show, inspiring audiences to compassion and empathy in these divisive times. He has opened for Yo-Yo Ma, recorded a Tedx Talk, and been featured on NPR. Kye is currently touring in support of his new album, Migrants. Featured on BBC World News, PRI's The World, and LA's Music Friday Live, the new record has been praised as "lovely and nimble" and "delightfully unique." www.joekye.com
Founded in 2014 by Michelle Fujii and Toru Watanabe, Unit Souzou (pronounced "sohzoh")  is committed to devising contemporary, relevant performance works with diverse multidisciplinary influences, while balancing the fragility and nuance of honoring the history of Japanese art forms. Developed over decades of experience, the core of Unit Souzou's artistic voice is personal and authentic, sound shaped and inspired by form and by movement, forging new traditions for evolving communities. 'Souzou' can be written in three ways meaning 'creation' (創造) 'imagination' (想像) or 'noisy' (騒々) alluding to a force by which new ideas are born and take shape in the world.  Inspired by these words Unit Souzou focuses on building creative and imaginative works for the art form of taiko.  In addition to creating groundbreaking theatrical works, Unit Souzou is deeply committed to share taiko through teaching in schools, collaborating with the local community, and offering public classes.